Year-End Report 2022
16.02.2023
– Regulatory information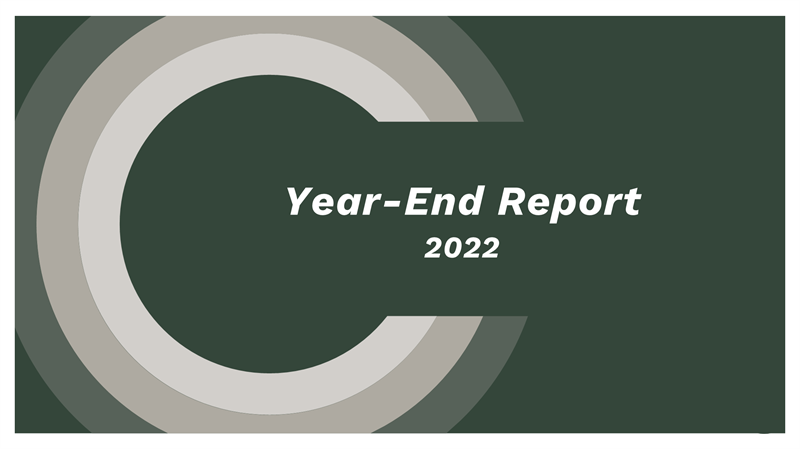 The year 2022 was an intense year for Cinis Fertilizer and the pace increased during the last quarter of the year. The listing on Nasdaq First North Growth Market in October, combined with loans and credit guarantees, means that the company has a fully funded business plan for the start of production of environmentally friendly and circular mineral fertilizer at the beginning of 2024. Groundwork for the company's first production facility has begun and notification of environmental permits for this facility is expected in the second quarter 2023. The planning of the second production facility is ongoing in parallel, with a granted building permit
October – December
Net sales amounted to SEK – million (–)*

Operating profit/loss amounted to SEK -8.8 million (0.0)*

Profit/loss after financial items amounted to SEK -8.2 million (0.0)*

Earnings per share, before and after dilution, amounted to SEK -0.1 (0.0)*

Cash flow from operating activities after changes in working capital amounted to SEK 19.9 million (0.0)*
*The group was formed on December 23, 2021
Full year 2022
Net sales amounted to SEK – million (–)*

Operating profit/loss amounted to SEK -24.1 million (0.0)*

Profit/loss after financial items amounted to SEK -23.6 million (0.0)*

Earnings per share, before and after dilution, amounted to SEK -0.3 (0.0)*

Cash flow from operating activities after changes in working capital amounted to SEK -9.1 million (0.0)*

The board proposes to the general meeting not to pay dividends to the shareholders for the financial year 2022
*The group was formed on December 23, 2021
Significant events during the quarter
On October 21, Cinis Fertilizer was listed on the Nasdaq First North Growth Market. The company received SEK 460 million before transaction costs (including over-allotment option)

The Land and Environment Court announced that the main hearing in the case regarding examination of Cinis Fertilizer's application for an environmental permit for the production facility in Örnsköldsvik is to be held end of March 2023
Significant events after the quarter
Örnsköldsviks municipality granted permission to start construction in Köpmanholmen

Skellefteå municipality granted a building permit for the production facility in Skellefteå

On February 2, 2023, Anna Kinberg Batra was appointed governor of Stockholm and thus has resigned as Director of the Cinis Fertilizer Board
CEO's comment
ANNOUNCEMENTS ENSURES PRODUCTION START ACCORDING TO PLAN
Cinis Fertilizer will produce the world's most sustainable mineral fertilizer through innovative upcycling. We will do this by recovering residual products and converting them into fertilizers, which in turn make agriculture more efficient and reduce its climate impact. That Cinis Fertilizer, through its business model, can so clearly be part of the environmental challenges of our time is fantastic and extremely positive.
Events during 2022
The year 2022 was an intense year for Cinis Fertilizer and the pace increased during the last quarter of the year. The listing on Nasdaq First North Growth Market in October, combined with loans and credit guarantees from Nordea and Swedish Export Credit Corporation (SEK), means that the company has a fully funded business plan for the start of production of environmentally friendly and circular mineral fertilizer at the beginning of 2024.
Groundwork for the company's first production facility has begun and notification of environmental permits for this facility is expected in the second quarter 2023. The planning of the second production facility, in Skellefteå, is ongoing in parallel, with a granted building permit.
Fourth quarter 2022
During the fourth quarter we received important announcements and decisions from Örnsköldsvik, where we plan to build our first production facility. Here, too, we have received positive announcements that enable our production to start according to plan and ground-breaking on site have begun.
The main hearing regarding our application for our production in Örnsköldsvik will take place in the last days of March. We make the assessment that our schedule to start of production during the first quarter of 2024 still holds, as the longest lead times in the project are delivery of process equipment, not construction time.
For us, it is important that our production facilities are close to our key suppliers of residual products, as well as infrastructure that can handle the logistics from our suppliers as well as to our customers. We will therefore build in areas designated for industries and in locations suitable for our operations. We obviously want to be responsive and our ambition is to adapt the buildings to the surroundings. Our facilities are designed in accordance with the current zoning plan and we have made every effort to ensure that our impact on the environment is as small as possible in terms of noise and emissions – all within the parameters outlined in our permit application. During the construc­tion period, traffic will increase marginally on roads adapted for heavy transport and when operations are ongoing in Örnsköldsvik, most transports to and from our facility will take place via the port and well within the existing permit for port operations.
When production in the first production facility begins in a year's time, Cinis Fertilizer will create around thirty new jobs. We are all looking forward to starting a new circular business in Örnsköldsvik and Skellefteå – and in several other locations in the coming decade.
During the fourth quarter, we have carried out investments in machinery and initial earthworks in Örnsköldsvik. This is according to plan and provides the necessary conditions for us to continue to run the project according to the time and investment plan. We plan to sign agreements with partners in the coming months. One such is the agreement that Cinis Fertilizer has signed today with We Construction regarding turnkey contract in partnership for the construction of the production facility in Örnsköldsvik.
With a competent project team and funding in place, I broke ground for our first production facility in Örnsköldsvik at the beginning of this week. Together with representatives of Örnsköldsvik municipality and We Construction, we must now do everything to contribute to the development of the local community as well as meet the global environmental challenges that include climate goals and food supply for a growing population.
There is today a great demand for sustainable and locally produced mineral fertilizers that can contribute to strengthening Sweden's as well as Europe's independence and reducing agriculture's carbon footprint. Cinis Fertilizer has an ambitious plan and together with my colleagues, our financiers, shareholders and partners, I look forward to realizing Cinis Fertilizer's purpose and vision to enable sustainable agriculture by reducing carbon dioxide emissions from the production of plant fertilizer.
Jakob Liedberg, CEO
For full report, please see attached file below.
For more information, please contact:
Jakob Liedberg, CEO
jakob@cinis-fertilizer.com
+46 768 58 12 86
Anders Antonsson, Acting IR & Communications Director
anders@cinis-fertilizer.com
+46 709 994 970
Henrik Andersson, CFO
henrik@cinis-fertilizer.com
+46 705 70 87 53
This information is such information that Cinis Fertilizer is obliged to make public pursuant to the EU's Market Abuse Regulation. This report has been prepared with a Swedish and an English version. In the event of any discrepancies between the two, the Swedish version applies. This information was published, through the agency of the contact persons above, on February 16, 2023 at 08:00 a.m. CET.
About Cinis Fertilizer
Cinis Fertilizer is a Swedish green tech company aiming to produce the world's most environmentally friendly mineral fertilizer, potassium sulphate (SOP), by recycling industrial waste products from the pulp & paper industry as well as the car battery manufacturing industry. The patent protected technology will use half as much energy as today's production methods and the result is a fossil-free fertilizer with a close to zero carbon footprint, a unique and circular contribution enabling sustainable agriculture. FNCA Sweden AB is Certified Adviser. For more information, visit www.cinis-fertilizer.com.