Interim report for the period 1 January – 31 March 2023
09.05.2023
– Regulatory information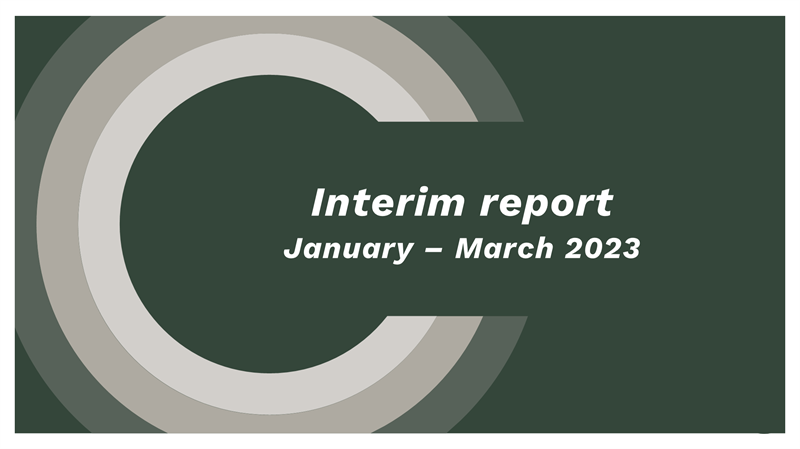 Start för constrution of Cinis Fertilizer's first production plant

The location is Köpmanholmen in Örnsköldsvik, Sweden. Here, the first sod was broken in February 2023 to mark the start of the construction of Cinis Fertilizer's production plant number 1. In May 2023, the Swedish Land and Environmental Court ("MMD") granted the company permit to build and operate a production plant in Örnsköldsvik. MMD has already announced that it intends to decide on the documents regarding Cinis Fertilizer's second facility, the one in Skellefteå. These two important events give the company the necessary conditions to deliver environmentally friendly mineral fertilizer (SOP) starting in Örnsköldsvik in about a year. In parallel, planning for the company's second production plant, in Skellefteå, is ongoing, with the goal of starting production from mid-2025. At full production, the facilities will deliver 100,000 and 200,000 tons of SOP per year, respectively.
January – March
Net sales amounted to SEK – million (–)

Operating profit/loss amounted to SEK -5.7 million (-4.6)

Profit/loss after financial items amounted to SEK -4.7 million (-4.6)

Earnings per share, before and after dilution, amounted to SEK -0.07 (-0.08)

Cash flow from operating activities after changes in working capital amounted to SEK -0.1 million (4.8)
Significant events during the quarter
Örnsköldsvik municipality granted permission to start construction in Köpmanholmen

Skellefteå municipality granted a building permit for the production facility in Skellefteå. The Land and Environmental Court has announced it will decide on Cinis Fertilizers' production plan in Skellefteå abstaining from a main hearing

On 2 February 2023, Anna Kinberg Batra was appointed governor of Stockholm and thus has resigned as Director of the Cinis Fertilizer Board

The first sod marked the start of construction for the facility in Örnsköldsvik
Significant events after the quarter
The Swedish Land and Environment Court has granted Cinis Fertilizer permission to start operations in the company's production plant in Örnsköldsvik

The nomination committee has proposed the re-election of the current members of the board and the election of Anna-Maria Tuominen-Reini

CEO's comment
NEXT YEAR, PRODUCTION WILL BEGIN IN ÖRNSKÖLDSVIK
In the autumn of 2021, a new board was appointed in Cinis Fertilizer with the focus to list the company on the stock market in the autumn of 2022. With a project team and a small head office, we set the goal of starting production of the world's most sustainable mineral fertilizer in early 2024. A high ambition clearly stating what we strive for, that Cinis Fertilizer should be part of the circular economy, and that we should use fossil-free energy to produce mineral fertilizer with the lowest carbon footprint in the industry. In this way, Cinis Fertilizer will soon become an important part of the green transition that is now taking place in the agricultural sector.
Important and positive decision from the Land and Environment Court
During the first quarter of 2023, Cinis Fertilizer took several important steps, including the Land and Environment Court's processing of our applications for environmental permits for our first two production facilities. On 5 May 2023, we received one of the most important messages from the Land and Environment Court last Friday. The court's decision means that we have permission, following the usual time for appeal, to build and operate the plant in Köpmanholmen just outside Örnsköldsvik. The decisions have taken somewhat longer than we initially expected – but that makes them all the more valued. We look forward to claiming the permit, continuing the construction with full force and in a few months receiving the first deliveries of the process equipment.
Our production technology is well-proven and we expect a short start-up period. Thus, we expect to see positive cash flows from our first production plant as of 2024.
First quarter 2023
During the first quarter have secured equipment delivery plans and that ground preparation measures proceed according to plan. The winter weather did not cause anything unexpected, and our construction partner is doing a fantastic job on site in Köpmanholmen. During the first quarter, we have continued to invest in machinery, land preparation measures and a geo-survey of the property in Skellefteå.
Total investments amounted to a total of approximately SEK 144 million at the end of the period, which is according to our plan, and we estimate that the total investment in Örnsköldsvik will amount to the previously communicated approximately SEK 600 million.
Future activities
We are pleased and proud that we have come this far. In Örnsköldsvik, the groundwork is proceeding according to plan and soon we will see the first building parts rise. Cinis Fertilizer has a fully funded business plan consisting of equity and a credit facility through Nordea and Svensk Exportkredit (Swedish Export Credit Corporation).
With the environmental permit in hand, we can complete several important processes, such as concluding agreements with key suppliers for electricity and input goods. We will also start recruiting for operations in Örnsköldsvik and I expect that we can contact the first candidates and make an appointment for interviews at the end of the third quarter 2023.
Market movements
The war in Ukraine has had major consequences on commodity markets, with volatile and rising prices. The great concern we saw in the market at the beginning of the autumn of 2022 has been replaced with somewhat calmer price formation at a clearly higher level than before the war and during the Covid-19 pandemic. The global economy continues to develop negatively, which among other things weakens the Swedish krona against both USD and EUR.
Starting with this quarterly report, we publish a graph of the pricing of our input potassium chloride (MOP) and of potassium sulphate (SOP), corresponding to our finished product. The graph on page 5 shows the price development on the world market for MOP and SOP as a bulk commodity. The SOP price is the basis for the pricing of our water-soluble SOP.
SOP is, compared to MOP, a premium commodity and priced accordingly. Historically, SOP has traded at a premium to MOP of around USD 250 per tonne. Water-soluble SOP is also traded at an even higher price of 20 percent over regular SOP. In the long term, we also see an opportunity to charge a higher price as a result of the product's environmentally friendly profile. However, have initially we chosen to sign long-term contracts to secure future income in order to achieve a quick impact on the market.
Cinis Fertilizer will sell all its production of water-soluble SOP from production facilities 1 and 2 to a Dutch player in agricultural products. The price of SOP is locked and hedged against the spot price of water-soluble SOP at a discount.
There is today a great demand for sustainable and locally produced mineral fertilizers that can contribute to strengthening Sweden's and Europe's independence and reducing agriculture's carbon footprint. Cinis Fertilizer has an ambitious plan and together with my colleagues, our financiers, shareholders and partners I look forward to realizing Cinis Fertilizer's purpose and vision – to enable sustainable agriculture by reducing carbon dioxide emissions from the production of plant nutrition.
Jakob Liedberg, CEO
For full report, please see attached file below.
For more information, please contact:
Jakob Liedberg, CEO
jakob@cinis-fertilizer.com
+46 768 58 12 86
Anders Antonsson, Acting IR & Communications Manager
anders@cinis-fertilizer.com
+46 709 994 970
Henrik Andersson, CFO
henrik@cinis-fertilizer.com
+46 705 70 87 53
This information is such information that Cinis Fertilizer is obliged to make public pursuant to the EU's Market Abuse Regulation. This report has been prepared with a Swedish and an English version. In the event of any discrepancies between the two, the Swedish version applies. This information was published, through the agency of the contact persons above, on 9 May 2023 at 08:00 a.m. CEST.
About Cinis Fertilizer
Cinis Fertilizer is a Swedish green tech company aiming to produce an environmentally friendly mineral fertilizer, potassium sulphate (SOP), by recycling industrial waste products from the pulp & paper industry as well as the car battery manufacturing industry. The patent protected technology will use half as much energy as today's production methods and the result is a fossil-free fertilizer with a close to zero carbon footprint. Cinis Fertilizers mineral fertilizer is a unique and circular contribution enabling sustainable agriculture. FNCA Sweden AB is Certified Adviser. For more information, visit www.cinis-fertilizer.com.